Training in Automotive is Broken!
Profit-Focused, Science-Based and
People-Centered | Meet Quantum⁵
Training has been a singular event for too long and the impact on people and dealers is unfair.
Meet Quantum⁵ , a training program that helps your whole team improve their skills in a way that translates to more profit, greater CSI, retention of customers and employees, and a culture change that impacts the customer experience. A blend of in-person learning experiences, creation of a dealership learning community for post-training success, and goal setting for accountability is the key to unlocking transformative change.
The results – your people sell more, additional appointments are created, your leaders are more effective, Service BDC's produce measurable ROI and your customers gain a better experience, leading to higher CSI scores.
The Quantum⁵ Process
Our approach to developing your dealership team comes in three distinct phases: Assess/Design, Implementation, and Sustainment.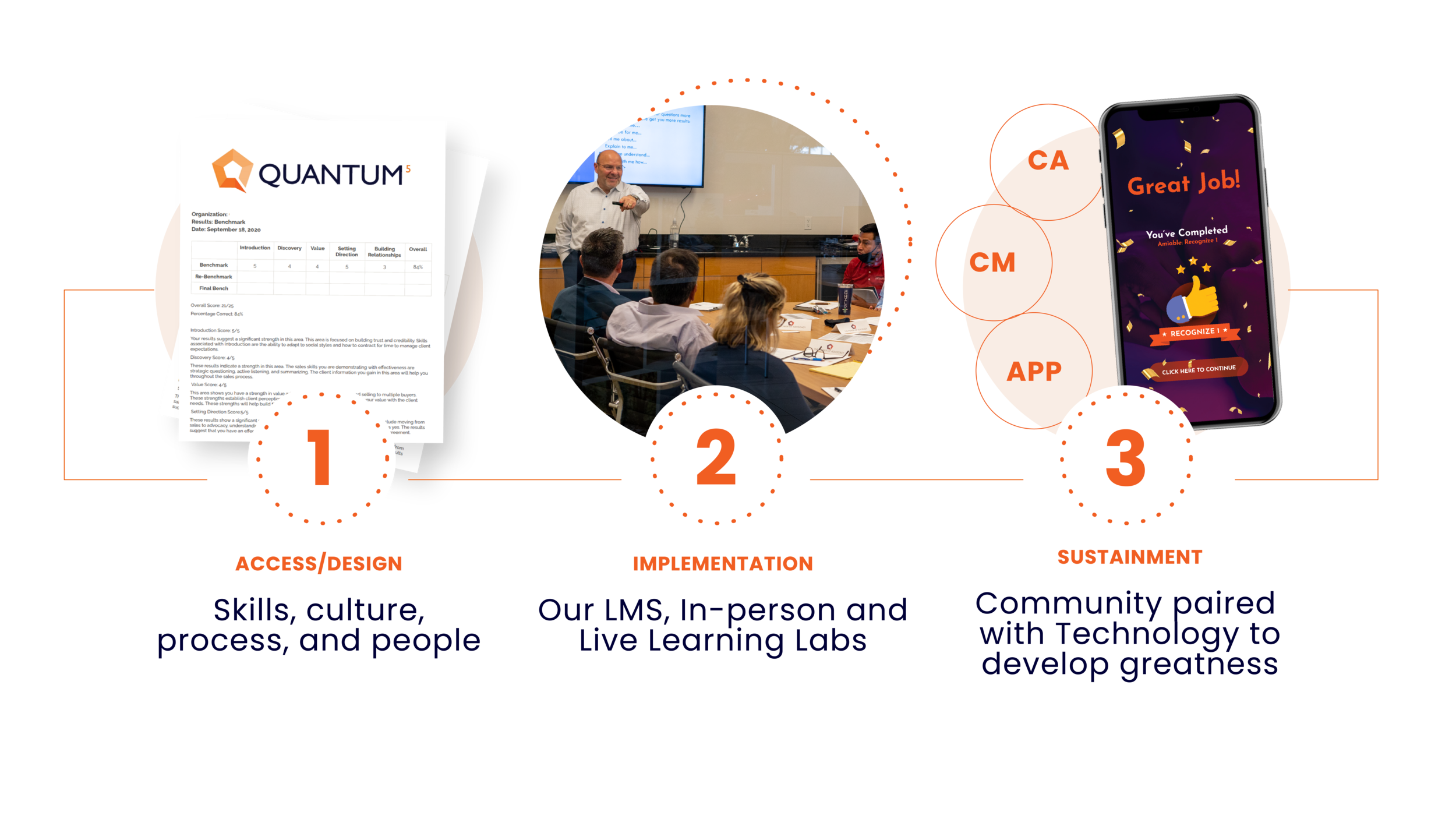 The assess and design phase always starts with science and data - we are curious to learn about your team's skills, culture, process and people. After we listen and then learn, we design a customized approach to developing your team and, as a result, performance increases.
The implementation phase brings together the best of LMS distance learning with in-person learning labs that provide hands-on examples in both your Service drive and on your showroom floor. Our interactive inductive learning process connects with the adult learner and creates buy-in unlike any other training program on the market.
In the sustainment phase, we cement the learning through our unique community and technology approach. We bring your team into the Q5 community with a community manager who builds personal rapport, and supports and coaches your team. Also included in this phase is the Q5 App, which contains unique learning journeys to support your team members and help them go from novice to expert with engaging content - all of which translate to more business, better relationships and continued success at every position across the dealership.
The process for profitable modern customer experiences is right here.
Build a culture of amazing employee experiences

Develop those employees with the skills and support to deliver amazing customer experiences

The result is a recipe for profitable customer experiences that drive retention of your team and the customer
Don't Just Take Our Word For It …