MAKE THE QUANTUM5 LEAP
Keep your team ready with an omni-channel performance suite for automotive training.
Let us show you how we can improve your CSI and build the best SSI with customer retention, drive employee excellence through sustainable training, and generate your highest profits yet with more sales and service at your dealership.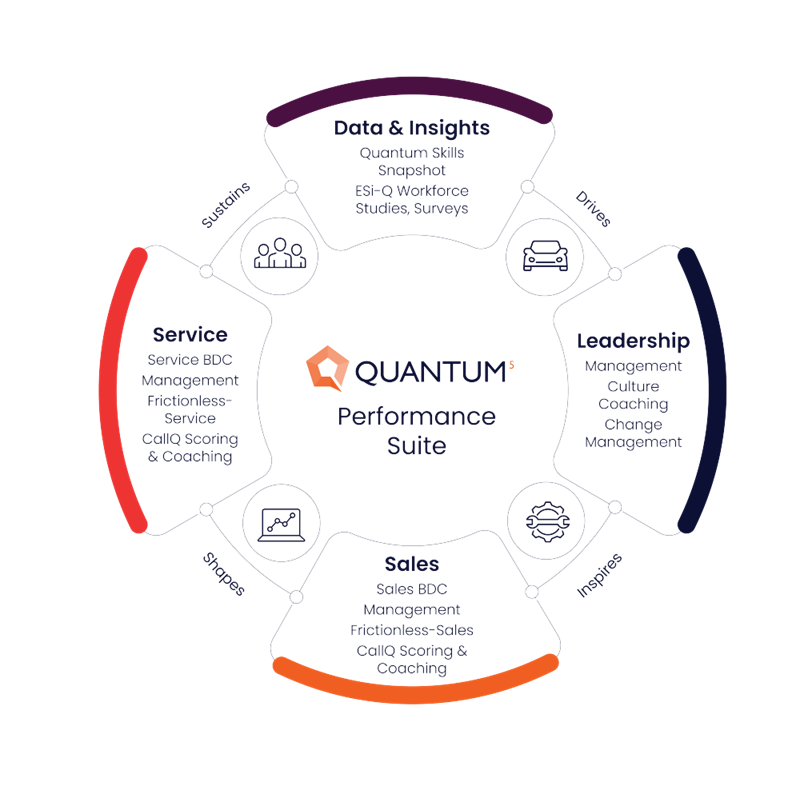 OUR SUITE
The Quantum

5
Performance Suite

The Quantum5 Performance Suite uses an omni-channel sustainable approach to learning with a focus on the transformation of the automotive industry increasing efficiency, retention, and profitability.

Our Quantum5 Performance Suite develops and coaches your team to their highest potential in sales, service, leadership, service BDC, workforce studies, and full-service call solutions.

It's simple, today's customer wants transparency, timeliness, and information. Is your team ready to deliver these elements while reducing friction and creating lifetime value? Our Performance Suite can show you how.
The Quantum5 Performance Suite
Hover over any section on the graphic to learn more:
OUR RESULTS
We Deliver Proven Results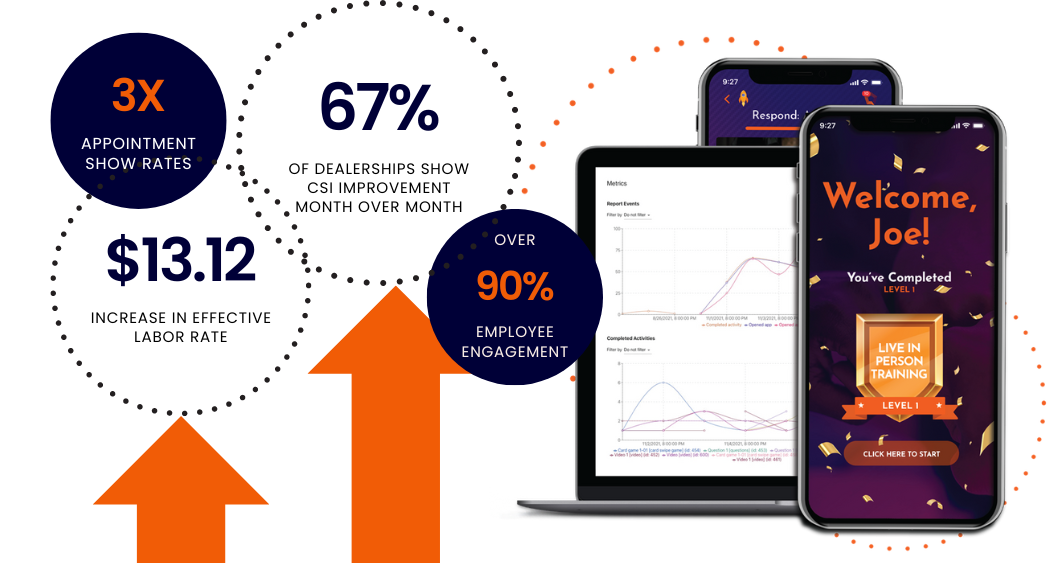 OUR MODEL
How We Deliver Success
Dealership/Brand Experience
When all 3 experiences work together, you increase employee retention and engagement, increase consumer retention, and ​build long-term brand loyalty.
It's your dealership and/or the brand of cars you sell and service. It's how you operate, your processes, your team, and simply the way you interact with both your team and your customer.
Customers need to know why they're choosing you. When your brand experience is known and memorable, loyalty follows.

HOW WE DO IT
How We Can Help Your Dealership
Dealership Challenges
Dealerships are challenged to engage and build trust with employees. We focus on improving:
---
High turnover

Low retention

Low productivity

Diminishing customer
experiences

Omni-Channel Training Approach
One-size-fits-all learning doesn't work. Quantum5 provides a community approach to learning that solves:
---
Generational needs

Quality of content

Measuring proficiency, change, and growth

LMS limitations and costs
Learning
Sustainment
One and done training doesn't change behavior nor develop proficiencies for growth. How we solve this:​
---
Training reinforcement via App

Engagement through our community support model

Our learning community

Training with trackable ROI
HOW WE SOLVE IT
We Stand by What We Deliver
Key Benefits to Using Quantum5:
TESTIMONIALS
Relationships Build Better Business

Check out some of our shared success for dealers around the country.