team
Blair King Recognized in AutoSuccess Women at the Wheel Program
The Women at the Wheel award recognizes women in the automotive industry who are game changers in their field — sparking change and driving results. Congratulations Blair!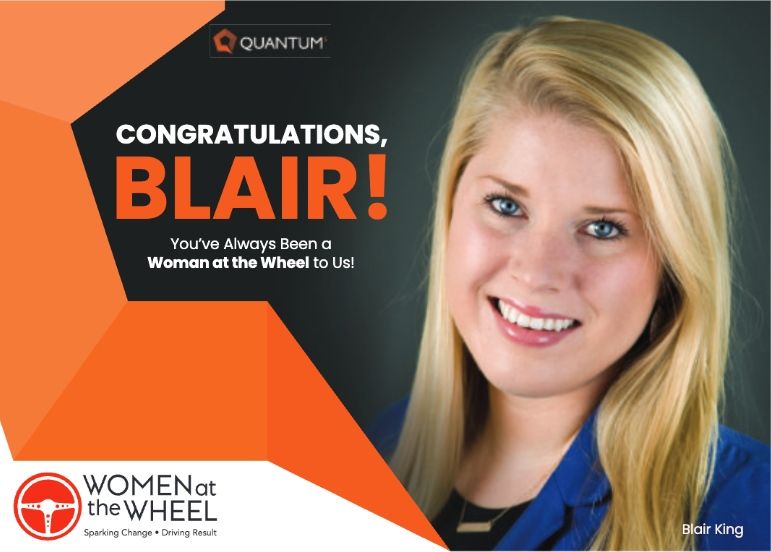 The third-annual honors spotlight 21 women from across the automotive industry.
Quantum5, the first-ever sustainable training tech for automotive, announces the naming of Blair King to AutoSuccess' third-annual class of Women at the Wheel honorees. The Women at the Wheel award recognizes women in the automotive industry who are game changers in their field — sparking change and driving results.
"I'm honored to be named one of this year's Women at the Wheel. These ladies are leading the charge throughout the automotive industry and I'm proud to stand alongside all these amazing honorees," says King.
"I'm delighted to introduce you to this year's class! It is a privilege to shine a light on these incredible automotive industry professionals," said AutoSuccess Publisher Susan Givens. "These programs take months of planning and coordination, but in the end, I think our team feels as rewarded as our honorees. The words of wisdom they share inspire us to do better, be better — at work and at home."
From Blair:
Proudest Accomplishment:

My proudest accomplishments in my career have been watching the teams I've assisted in multiple start-up companies grow and succeed. Working as a team in the start-up phase is crucial to success and I've been lucky enough to watch teams go from five of us in a basement office to a successful company that helps dealers with their everyday tasks, and that keeps my passion alive. I go about everything that I do with my team and our dealers in mind, and seeing the wins, no matter how small or big, is what encourages me to give my best every day. I've been fortunate throughout my career to have mentors who are still in my life today and who allowed me the space to learn, grow and challenge the status quo as I found my way in the automotive industry. Without their support and guidance, I would not have been able to find my voice or have the means to achieve my goals in this ever-changing world.
Best Advice:

Don't be afraid to show your strength. In a male-dominated industry, I've been there firsthand when it can seem like the right thing to do is to shy away from your opinions and knowledge. I encourage all women who want to be great in this industry to show these men what you can do and what you're made of! Focus on how you can help your team, your company, your partners and the automotive industry succeed. What can you bring to the table? Don't be afraid to show up and continually elevate your game because it will lead to you lifting everyone's game around you. Never stop growing and learning.
The class of 21 award winners appears in a special section of the magazine's June 2023 issue as well as online at AutoSuccessOnline.com and in various social media promotions across multiple platforms.
###
About Quantum5
Quantum5 is the first-ever learning readiness training tech for automotive, and is the only training suite with an omni-channel approach to delivering an excellent consumer experience. Using an advanced learning platform, Quantum5 delivers skills training that drives the entire sales and service process within an automotive buying experience. By focusing on the 5-core trust and relationship sales skills proven to improve customer experiences, Quantum5 increases employee performance and enables learners to build authentic lifetime value relationships. Find out more at www.quantum5.ai.
About AutoSuccess and Babcox Media
AutoSuccess addresses the specific needs of new car and light truck dealerships by providing ideas, tips and solutions on topics impacting dealers, general managers and department managers. AutoSuccess is dedicated to helping automotive professionals improve their team's effectiveness and their dealership's profitability.
Founded in 1920, Babcox Media (Babcox.com) is the leading business-to-business content provider for the transportation industry. The company's portfolio includes highly respected and influential brands within the auto care, tire, performance, collision, commercial trucking, auto dealer, powersports and enthusiast markets.
Media Inquiries:
Laurie Halter
Charisma!
503-816-2474